HoneyBees Pest Control Service in Ranchi
JayRaj Pest Control & Home Cleaning Services : The pest control company provide the honeybee control service to provide the pest treatment to completely terminate the honeybees from the Residential & Commercial spaces.
Spray-based Honeybee Control Service
Honeybees always make their beehive near to residential area. Although they don't transmit any disease but sometimes they bites any person and it results in fever and pain. Honeybees are very useful pest and farmers keeps them for honey. Bee farming produce great revenue. Although sometimes they cause problem to human as they build their beehive near to residential and commercial areas. In this case people looks for some permanent solution to get over from this honeybees.
JayRaj Pest Control & Home Cleaning Services provides Spray-based honeybee control service in Ranchi and entire Jharkhand. We offer a wide range of services from chemical treatments for your home or office, car & buses, cinema halls, theatre, mattress, sofa inspection services, pest control services as well as prevention advice through education.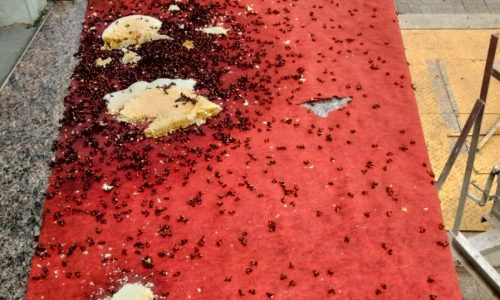 Preventions to eliminate Honeybees from your Home
The best way to avoid honeybees is to take preventive measures by following these tips:
Clean your home and furniture regularly.
Spray neem oil if you find some honeybees in near by location.
Regularly call a pest control company for a pest control services for living a pest free life.
How to confirm that my home is infested with Honeybees?
Honeybees bite can results in high fever, pain and swollen in the affected body part. The following are the signs of honeybee:
If you find beehive in your near by location.
If honeybees regularly visit your home.
If you get honeybees flying in your locality.